The sun was bright on this mid-summer day on base, as the numerous soldiers and workers on break gathered around the lake. At it's center was the NESF's custom fighting stage.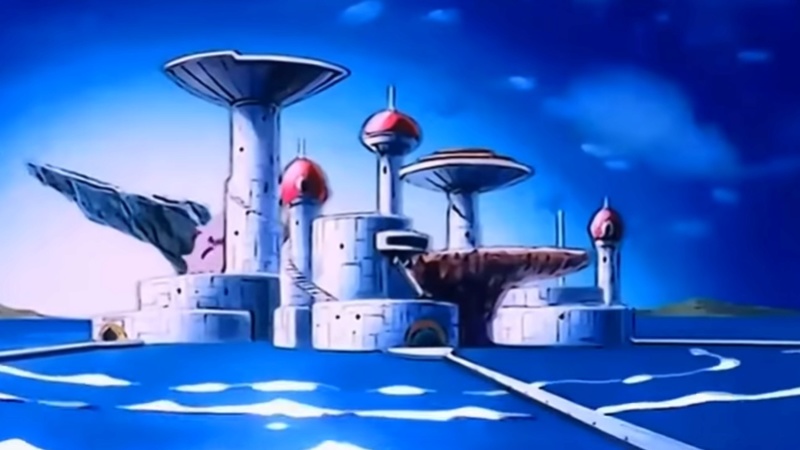 Most of the gathered observers were flashing wads of their earnings and valuable items, betting on which of the two randomly decided teams would win. They'd started this tradition when the young Arashi had suggested it, early on in their adoption of these combat exercises. It had caught on quickly, and the crowd seemed to grow each session.
Atop the tallest structure, three of the fighters were preparing. Arashi moved around, stretching and taking preparatory jabs at the air. His current partner Nero simply stood nearby, observing the maneuvers.
Nearby Lusk was enjoying the current weather, peering off into the sky as a cool breeze moved his scarf and garb. He soon caught sight of a small boat approaching through the water.
"He's arrived." Lusk called out calmly. Lexon could be seen on the boat, disinterested.
"Finally!" Arashi hollered, jumping up from a low stretch. "Even I'm not late every time like that guy..."
---
Jumping up each platform,  the wolf-man arrived at the top casually, not bothering to say hello. Lusk smiled and joined him.
"Shall we begin?" Lusk suggested, as Arashi joined Nero. Spinning his arm around in anticipation, the half-saiyan agreed.
--------------------
Objective Battle!!
Unlike most battles, the object of this spar is to knock the opponent off and into the water below! But both fighters can catch themselves once knocked astray!
The area has three different height levels. The fighters are knocked from, and can move between, each of them. Careful of falling, and try to stay high!
Area A - High level
Area B - Medium level
Area C - Bottom level
Rules (Supplied by our GM SSJ-sama):
Knockoffs
If your
physical attack
does more than 15 damage (after Endurance step if applied) the defender rolls their Willpower to not get blown back; if they fail, they are knocked back and off the stage.
For an
energy attack
, more than 10 damage (after Willpower), same difference otherwise
In any case, to avoid being knocked off, 1d20 + Movement or Reflex (whichever's higher)
--
>8 and you stay on
Otherwise, you roll 1d20 + Movement/Reflex on the Recovery Table
--
--
Recovering Table
-----------
< 8 | Missed all platforms, must cling to edge!**
8 - 12 | Fell two levels, take 4d10 falling damage.
13 - 16 | Fell one level, take 2d10 falling damage.
17+ | Generally okay
--
--
**Cling Table
-----------
>/= 10 if recovering on high platform,
>/= 15 if recovering on middle,
>= 20 if on lowest (slick edge from water)
--
To
resist the falling damage
, Reflex vs rolled falling damage (or 10, whichever's higher)
Movement
To get the higher ground
, Movement + 1d20
(Difficulty increases the more levels you try to go up)
--
Movement Table
-----------
Need to roll 15 + 5 for each additional level up
C -> B or B -> A, 15
C -> A, 20
----------
For the purposes of this spar, all fighters are out when they reach half their Max HP
Lexon stretched slightly with a yawn. "I need to stop agreeing to these types of things," he says before adjusting his gauntlets.
--------------------
Round 1
-------------------
Lexon (28)
Arashi (26)
Lusk (21)
Nero (14)
---------
Stat Block
Name (HP / [KP / CP / MP / ...] / AP)
Lusk (75 HP / 87 KP / 74 MP / 4 AP)
Lexon (44 HP / 77 KP / 3 AP)
Arashi (87 HP / 106 KP / 3 AP)
Nero (86 HP / 66 CP / 6 AP)
----------
After adjusting his gauntlets, the wolf takes a defensive stance. Knowing his weaknesses in this situation, he eyes the opposing team. Bracing himself for any offensive.

His eye shot a glance towards Lusk, "When you're ready," his eyes darted forward, "I suppose..."
----------
Lexon is ready to avoid any attack! (Reflex: 12 -> 16)

Arashi's turn!
Arashi was pumped, it was a beautiful day and everyone was excited. There was a big spar scheduled and the whole NESF was invited.

Arashi looked towards Lusk and said "let's have a good spar Lusk!"

"Indeed. I wish you good lu-"

"NO I really mean it! I promise not to underestimate you ever again!"

As soon as those words left Arashi's mouth great power began to emanate from his right arm!
An almost crazed but excited looked appeared on Arashi's face as he set up his signature move!

"From this point on I'll treat ya like everyone else! No more discrimination just pure equality!"

"Arashi hold on it's just a spa- GGGAAAAHHH!!!"
Before Lusk could even mentally prepared himself Arashi had already rushed towards him and slammed his right hook into Lusk's chest!
The strike was so great it sent it a gust of air pressure could be felt all across the the ring.

Arashi used his Signature Move and hits. Lusk takes 34 damage!
Lusk (HP 75>41) Arashi (KP 106>82)

In the last moment of impact Lusk flew like a rocket straight onto the floor of stadium B. The crash sounded like two boulders crashing into each other!Lusk laid on his back in pain as the damage began to truly set in!

Lusk failed Ring out Save and lands in Stadium B
Lusk takes 15 damage (HP 41>26)

"You're next Lex!" Arashi leaped towards Lexon with all his might and flew towards Lexon in an attempt at a jump kick. However Lexon dodged with complete ease!
Arashi pays one AP for a basic physical and misses (Arashi AP3>2)

"You need to try a liitle harder than that kid" Lexon said with a bored Yawn

--------------------
Round 1
-------------------
Lexon (28)
Arashi (26)
Lusk (21)
Nero (14)
---------
Stat Block
Name (HP / [KP / CP / MP / ...] / AP)
Lusk (26 HP / 87 KP / 74 MP / 4 AP)
Lexon (44 HP / 77 KP / 3 AP)
Arashi (87 HP / 106 KP / 3 AP)
Nero (86 HP / 66 CP / 6 AP)
----------



Posts

: 143


Join date

: 2015-06-22



Lusk's turn

With a heavy gack, a rush of purple blood escaped Lusk's lips.

Due to Internal Bleeding, Lusk takes 4 damage! (HP 26 -> 22) and he can't use Passive Regeneration! D :

Any Earthling of Lusk's strength hit with such an attack would be dangerously near death just from this,...and Lusk was no different, several of his organs ruptured and firing off jolts of pain.. He bit down on his lips from the damage, pressing his forehead down against the ground from his stomach-down position. Pushing in discomfort, his back arched back. Both hands grasped his gut with a glowing grasp, though it hurt for the organs to go back together like this.

Lusk realized...this was Arashi's plan. In their previous spars Lusk had always refused to use his healing magic, the Chiyujutsu*, on himself. So Arashi had gone all out right from the start, to force his hand...and indeed he had. Lusk had to use up a huge amount of his magic to bring himself back to normal.

"Kuh..." Lusk gasped, at a particularly discomforting fix within him, "Your an interesting person...Arashi..."

Lusk uses his Chiyujutsu (MP 74 -> 59) to heal 60 damage! (HP 22 -> 82)

Nero's turn!
Nero stands back while Arashi attacks Lusk. taking the time to assess the Wolf standing on the other end of the ring. "(Anthros are almost famous for their speed, from what ive heard, is this one the same?") he ponders to himself.

deciding to test it for himself. he holds his hand out towards Lexon. who immediately tenses up in response. Nero makes sure to put a little extra energy into what's coming.

instantly, a medium-sized purple energy blast fires straight towards Lexon!! it moves with surprising speed towards the Wolf. who barely has enough time to react as he kicks off the ground. leaping to the side and narrowly avoiding the blast!!

Nero attempts a chaos blast towards lexon! charged +4. it misses!! Nero CP 66 > 58

--------------------
Round 2
-------------------
Lexon (28)
Arashi (26)
Lusk (21)
Nero (14)
---------
Stat Block
Name (HP / [KP / CP / MP / ...] / AP)
Lusk (82 HP / 87 KP / 59 MP / 4 AP)
Lexon (44 HP / 77 KP / 3 AP)
Arashi (87 HP / 82 KP / 2 AP)
Nero (86 HP / 58 CP / 6 AP)
----------
Lexon's turn!!



"
Last edited by theiceblade on Wed Dec 13, 2017 10:07 pm; edited 1 time in total (Reason for editing : Correcting Lexon's race)



Posts

: 92


Join date

: 2017-09-02



--------------------
Round 2
-------------------
Lexon (28)
Arashi (26)
Lusk (21)
Nero (14)
---------
Stat Block
Name (HP / [KP / CP / MP / ...] / AP)
Lusk (82 HP / 87 KP / 59 MP / 4 AP)
Lexon (44 HP / 77 KP / 3 AP)
Arashi (87 HP / 82 KP / 2 AP)
Nero (86 HP / 58 CP / 6 AP)
----------
Lexon's turn!!
Shocked by Arashi's attack, survival instinct controlled him for a moment as Nero's blast flies by. With a mighty stomp Lexon's gauntlets twinge before being engulfed in dark purple energy. A musical tone emits from them before raising in pitch slightly.
"Shade Sharp!"
Pupils slightly slimmer, the wolf charged forward at Arashi with a leap, the teen barely left enough time to react. Lexon's arms thrusting inwards from both sides.
"CRACK!"
The wolf's arms were smashed into Arashi's legs, caving them in painfully.
Jumping back, Lexon's instinct faded and he calmed, "..."
----------------
Lexon activates his Shade Sharp using 24 KP! (Lexon KP: 77 -> 53) Then using 1 AP (AP: 3 -> 2) he attacks Arashi dealing a crippling 56 damage! (Arashi HP: 87 -> 31)

With a crippling blow to the legs Arashi's, Movement and Reflex are halved! (Movement: 4 -> 2, Reflex: 9 -> 4) And his initiative drops by 1! (Initiative: 26 -> 25)
Arashi was honestly in excruciating pain. He had never been hit with an attack like that before. Except for his one encounter with the man in white only not as terrifying or traumatic. He forced himself to his feet and that was he began to notice the all encompassing feeling of blood loss.
Arashi takes 3 damage from "Bleeding"
Arashi (HP 31>28)

"Well can't have that now can I?" huff huff

Arashi began to focus; he quickly gained better control of his flesh bit by bit. There was a short Rippling echoing throughout the surface of his body like a rock being dropped in a pond,and in an instant the bleeding stopped.

Arashi passes the Will Power check to stop the bleeding.

"And now!"
Arashi's green aura began to caress his entire body and slightly clean up a small fraction of the damage dealt to his body.

Arashi pays one AP to use "Rest".
Arashi [HP28>33] (KP 82>87) (AP 2>1>2)

Round 2
-------------------
Lexon (28)
Arashi (25)
Lusk (21)
Nero (14)
---------
Stat Block
Name (HP / [KP / CP / MP / ...] / AP)
Lusk (75 HP / 87 KP / 59 MP / 4 AP)
Lexon (44 HP / 77 KP / 3 AP)
Arashi (33 HP / 87 KP / 2 AP)
Nero (86 HP / 58 CP / 6 AP)



Posts

: 143


Join date

: 2015-06-22



Lusk's turn!
Lusk's heals 8 damage thanks to Passive Regeneration! He's still at max! (HP: 75)

Hearing Arashi's pained expressions above, Lusk could tell Lexon had let lose some technique of his, which he crafted from pure darkness. Crouching down, he shot up in a powerful leap. His muscular feat shot him above the high platform, allowing him to come down on it safely.

Lusk makes his Movement roll, arriving at Area A!

Before his feet reached the fighting stage, his began pulling ki into his right fist. A yellow aura picked up around it, brimming with energy. The large fighter charged forward as soon as he could, feet thumping against the metal flooring loudly, as he darted right for the unharmed member of the opposing team.

Nero glanced back at him, and jumped back to further their closing distance. Lusk pushed on however, reaching the android in a strained rush. Pulling back his prepared knuckles, they flew forward into nothing, as Nero ducked straight backwards to "limbo" out of harm.

Lusk burns an AP (4 -> 3) to attack Nero with a Charged Punch (KP 87 -> 81), but misses!

Nero's turn!
Lusk skidded to a halt, immediately whipping around to see Nero casually standing in the same spot he had dodged in. nero slowly moved into his fighting stance as a faint aura of gold appeared around him, barely visible.

In an instant, he tensed up and kicked off the ground. coming straight for lusk with a hard right. Lusk weaved to the right and jumped. gaining some distance from Nero, unaware that this had left him open,
Iimmediately the golden aura around Nero flared up intensly, releasing shockwaves of wind. Lusk barely had time to make out the golden light concentrating in Nero's left hand before he turned towards him.

"CHAOS AFTERBURNER!!" Nero yelled as he moved forwards twoards Lusk, stomping his foot down into the gound of the stage and thrusting his arm forward, A large swirling golden beam came flaring out towards lusk.

the blast hit Lusk hard, pushing him towards the end of the stage. Through the pain lusk managed to ground himself. and the beam enveloped him for a while before fading. Lusk stood, Clothing ripped and blood trailing from his wounds.
it was obvious the Afteburner had done quite some damage.

unlike usual, the golden aura around Nero did not fade when he fired off his attack.

"(guess he left his limiters off this time...)" lusk noted.


Nero attempts to hit lusk with a basic physical attack, a miss!! nero burns an AP to hit lusk with his sigtech, Chaos afterburner!! critical hit!! 68 damage. nero burns an aditional AP to remain in his "limiters removed" state!!

Lusk HP 75 > 7, Nero HP 86 > 82 Nero AP 6 > 4.

Lexons's turn!

Round 3
-------------------
Lexon (28)
Arashi (25)
Lusk (21)
Nero (14)
---------
Stat Block
Name (HP / [KP / CP / MP / ...] / AP)
Lusk (7 HP / 87 KP / 59 MP / 4 AP)
Lexon (44 HP / 77 KP / 3 AP)
Arashi (33 HP / 87 KP / 2 AP)
Nero (82 HP / 58 CP / 4 AP)



Posts

: 92


Join date

: 2017-09-02



The wolf's ears twitched as Nero's attack landed, catching a quick glimpse of the namekian. Once again, the survival instinct began to kick in (BecauseLexonWouldn'tBeThisSeriousOtherwise.)

This Lexon wanted to make sure the enemies were out of reach, he took a step before rushing towards Arashi with his arm bursting in a dark pulse. Arashi blinked and there the wolf was, his body slightly being...pulled?

"Wha---!?"

"Shade Drum!" The anthro shouted, fist impacting with a loud tone as the teen's body was sent back with high velocity.

Lexon uses Shade Drum (KP 53 -> 29) on Arashi, dealing 12 damage and sending him out of Short Range! (Arashi HP 33 -> 21)

Arashi is knocked off Area A and manages to catch himself on Area B! But the fall deals 10 damage! (Arashi HP 21 -> 11)

"Arashi?!" Nero watched, bracing himself for the wolf. But...did he just have an ocular malfunction..? Where'd he go?

"AAAGGGHH!" A loud growl stole the android's attention. He watched the wolf's arms begin to scissor in his legs...just like Arashi!? But his body tensed as he braced himself, quickly moving his legs in a way to take the least damage! And to his delight, twas a success.

Lexon burns an AP (2 -> 1) to attack Nero with his still active Shade Sharp! Dealing 46 damage as Nero endures! (Nero HP 86 -> 40) The blow was crippling however, as Nero's Movement and Reflex are now halved! and his Initiative is reduced by 4! (14 -> 10)

The arms shift quickly as the wolf shouts the same line, "Shade Drum!"

"?!" Squaring his guard, Nero rose his arms.

"Thud!"

A fist impacted with another loud tone. A force presented itself on Nero as his body began to fight back. But to no avail as a shockwave sent him flying back but not passed the edge of the Area.

Lexon burns his last AP (1 -> 0) to use Shade Drum on Nero, dealing 4 damage! (Nero HP 40 -> 36) (Lexon KP 29 -> 5)

Nero is knocked out of Short Range! But he sustains his footing onto Area A!

"Damn..." Lexon growls readying himself.
Similar topics
---
Permissions in this forum:
You
cannot
reply to topics in this forum