Page 2 of 2 •
1, 2
Inside the tank there's a Thunk.

"Alright, It's loaded! But this kid is too close to--"

"Then aim at the other one."

The soldiers in the tank begin to reposition the cannon. Adrian and Berg watching as the barrel moves. A loud BOOM sounds off as it fires right next to Adrian. The shell heading straight for the alien.

Adrian jumps as if to dodge, startled by the volume of the sound.

Berg's eyes widen as the hoverchair tilts forward in reverse.

BOOOOOMMMM

Berg spins out onto the ground as his chair is sent flying; tumbling over and over along the ground. Covered in soot and some burns he twitches, "T-That...really," He looks up, tears building up at the corners of his eyes. He sobs, "...really hurt!!"

Adrian catches a glimpse, giving little more than a concerned expression not really knowing what to say.
---------
The tank fires its cannon at Berg (Energy: 110 -> 75), Berg endures the attack; reducing the damage to 45. (Berg HP: 88 -> 43, Hoverchair HP: 60 -> 0)
---------
As the cannon fires, one soldier mans the gun and aims for Adrian; a spray of bullets. Adrian flawlessly avoids each, however.
-----
The tank burns an AP (6 -> 5) to fire it's machine gun at Adrian! (Energy: 75 -> 42), but misses.
--- --- --- --- ---
Initiative Order
---------
Adrian (21)
Plane A (15)
Berg (9)
Tank A (0)

Adrian (Lv. 4 / 122 HP / 60 KP / 5 AP)
Berg (Lv. 4 / 43 HP / 157 KP / 7 AP) [Hoverchair: Scraps]
Tank A (Lv. 2 / 74 HP / 42 KP / 5 AP)
Plane A (Lv. 2 / 76 HP / 78 KP / 6 AP)
Round 10 start!
Adrian's turn!
Adrian again swings his arm out, hammering the spot where his previous punch connected, causing it to dent and crack more...he then swings into another punch..however it is much less effective, and the armor holds perfectly.

Adrian attempts to punch the tank, a hit!! 20 damage!! he then burns an AP to attempt another punch...but misses!!

Tank HP 74-> 54 Adrian AP 5 -> 4



Posts

: 100


Join date

: 2017-09-02



Watching the tank take some damage, the jet begins to turn and head back in. It angles itself as it begins to fire it's guns. Adrian notices this and begins to dodge. Every few seconds, the fire rate increases as the constant fire causes it to speed up.

Not paying attention to this, Adrian gets hit by a few of them as they shred his clothes more, "?!"

Adjusting to the rate of fire, and now expecting it to increase, Adrian begins to avoid the fire once more, which wasn't hard with the aim seemingly starting to become way off, slashing his hand as a blip of ki fires at the jet; followed by an explosion on impact. The jet jolts for a moment, halting in the air.

"T--This should have taken that much damage from that..."

"He must have hit some kind of weak point."

"He's dangerous..."
-----
The jet consecutively fires its Machine Gun at Adrian (AP: 6 -> 4) The first attack misses, the second deals 7 damage, and Adrian Perfect Parries the third; inflicting 18 damage. (Adrian HP: 122 -> 115, Adrian KP: 60 -> 56, Jet HP: 76 -> 58)
-----
"Fire a guided missile! We have to incapacitate them quickly."

"Guided missile, firing now!"

The jet rights itself and fires a small missile that heads straight for Adrian, "Heh," he smirks hopping to the side to evade, but his eyes widen as the missile seems to make a sharp turn directly into him as it explodes.
-----
The Jet burns an AP (4 -> 3) to use it's Guided Missile (Energy: 78 -> 64), hitting Adrian for 9 damage. (Adrian HP: 115 -> 106)

The Jet returns into Adrian and Berg's space.
-----
Berg's Turn!
As Adrian confidently recovered from the explosion, Berg was on his hands and knees holding back tears. His tail thrashed against the hard ground as he tried to get a hold of himself. One of the soldiers operating the tank called out; "It's crying?"
Adrian looked back at his partner, and Berg caught his gaze. He abruptly stood up. "I'm not crying!!"
Wiping his eyes with an arm, Berg glared at the destroyed hoverchair.
"They broke it...papa will be very angry with me.." Berg said as his anger boiled, looking to what his father had given him. "He'll be...disappointed..."
--- --- --- --- ---
A Particular E.L.A. Base
Live video of Berg looking toward's the camera was up on the wall monitor, two standing men in labcoat's overseeing many sitting at computers.
"It's a miracle we're still transmitting..." one of the sitters called out, typing away.
"I wonder," one of the standing men pondered, adjusting his glasses, "if he's ever been that injured before? He's still young, even for their race."
"It looks like Lacier sent his son off to get killed..." the other man replied. "Glasses" turned back towards the screen.
"Oh...I'm not so sure about that." he replied, "But I do think this is exactly what Lacier was hoping for..."
--- --- --- --- ---
Berg's tail cracked the ground as it slammed down, the boy crouching as his muscles tensed in anger.
"This mission is so stupid!!" Berg yelled out, a trail of blue energy floating up off his shoulders. "Why did papa force me to come here!?"

"Berg...""Yes, Papa??""You should act a bit more like that Saiyan I just encountered..."
"Who cares...about some Saiyan!?" Berg spouted, more power flowing from his limbs...
Berg begins his Cold Transformation...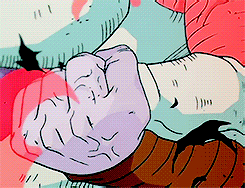 "Even as I mocked his naive outlook, I respected his ambition.""Make sure to learn from him next time you meet."
Of course, neither Lacier nor Berg knew that the Saiyan the father spoke of was defeated by Berg before their meeting.
Berg grit his teeth further, as his muscles seemed to bulge up in size.
"The expression on papa's face when he talked about that Saiyan...I've never seen it before..!"
The aliens chest immediately expanded greatly, becoming fit for a far larger being. One abruptly grew to that size as well.
Portion by portion, the small body jumped up in size, until even his horns sharpened.
"Why was that face so full of pride for them!?"
he thought...
Using 2 AP (7 -> 5) Berg completes the transformation into his Brute Form.
Adrian was looking on with wide eyes full of surprise, his once small comrade now towering over him in height. A particular sense came through him. Some sweat traveled down the side of his face as he remarked; "So you were holding back your true power then?"
(HP +31 43 -> 74) (KP +35 157 -> 192) (AP +1  5 -> 6)
As light faded out from his tall new form, Berg turned back towards Adrian, now smiling.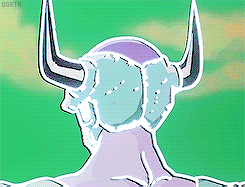 "I'll show everyone what it means to be the son of the mighty Lacier!"
(Level 4 -> 5)
"How is that for ambition!?"Tank A's turn!
"T...That thing. It's some kind of...Demon?!" One soldier shouted, "It was crying just a second ago, and now it's huge..."
"To hell with this!!" Another began, "You two are on your own," he opened a hatch and quickly climbed out, "I'm out!"
As the soldier runs, the first soldier who spoke jumps out as well, "Hey! Don't just leave me here," breaking out into a fear fueled run.
The final soldier sat there, eyes shaded, watching the kid and monster through the tank's monitor. Picking up what seems to be the last cannon shell, "This is the last one. If anything at least I'll try this last ditch attack..." He whispered to himself as he loads the shell in.
Thunk!"Did they say I was crying again...?"
Berg thinks, as Adrian stares at him.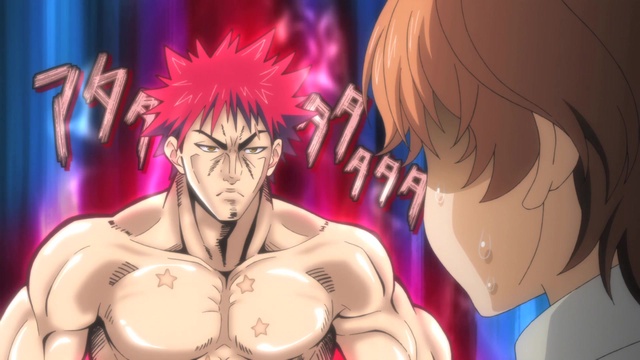 Using the pause, the soldier quickly aims the tank in their direction, "I'll do damage...or I'll distract them enough..."
He pushes the button, and the tank's cannon is fired! The soldier immediately leaping out and running for it. He hoped for it to hit, for it to be enough.... but he didn't dare look back to find out.
The shell hurdled through the air it's target; Berg! Despite his new appearance, Adrian could tell that Berg's body couldn't handle much more.... noticing the shell...
"Haha! Look at them run..." Berg cockily laughs, sure the shell will either miss or do nothing. Adrian reacts, jumping to intercept as the shell impacts.
BOOM!
-----
The tank fires it's cannon one final time, landing a critical hit! Adrian critically fails. The attack is a Devastating blow that deals 142 damage. (Adrian's HP: 106 -> 0)
The Tank is defeated...
Adrian...is defeated?!
-----
For a moment Berg didn't understand, as Adrian's smoking body hit the ground. But when he landed, it all seemed so familiar..

--- --- ---
Arashi's smoking body fell forward out of the explosions remains, shirt burned away and hair puffing outwards somewhat. His knees clacked to the ground first... "I've...got her..."

"N-N..."
--- --- ---

"Hey...?" Berg called out, a hand raising out towards him. The giant stumbled over his feet for a moment, heading to the fallen fighters side. When he was there he grabbed ahold of the teens shoulders, and shook him. The arms crossed over Adrians chest fell, clear they had been protecting something close to his chest even while taking that hit.

The martial gi of his was still in one piece, just like Berg...

"You wanted to fight strong guys, Adrian..." Berg said, shaking his comrade with his large hands. "Like that Kigo...So why..."

--- --- ---
Pushing through the water above her ankles, Verbatim rushed to Arashi side, flipping him over so as not to start drowning. She layed his head on her lap looking over his burns.
--- --- ---

"Why did you do something like that?" Berg said, emotions twisting across his face...

He looked up towards the path further into the base...where his ambition of proving himself to his father would lead him.

"...Don't break...Adrian." Berg said, lifting Adrian up in his arms. As his head fell back, Berg caught it, and pulled it close to his chest. Blue ki burst out around the giant alien, as some pushed him off from the ground..

Berg took off into the air heading straight back where the two had come from. A different path then what lay ahead, but the path Berg had suddenly chosen.

And so he retreated...

--- --- --- --- ---
"Ah, you're that fight-maniac..." Berg called out to Adrian, as they were meeting for the second or third time.

"Going to take me up on my offer?" Adrian replied, referring to his pitch for the two to have a spar.

"No way!" Berg replied, head dropping as his shoulders raised. Adrian gave a slight nod, "Well, cya..." he said, before turning.

"Wait!" Berg called out, nervousness in his voice. Adrian turned back, hands in pockets.

Berg stood up straight, wanting to ask what he had many others, most of all his papa. They'd all said no, be it in disinterest or, in the case of the Earthling's, fear.

"Would you... play ball with me...?"

But Adrian looked at Berg, albeit blinking in surprise, and replied quickly.

"Yeah, sure."

Berg's face lit up. "Really!?"

Adrian smirked somewhat, as the two started to walk together. "What's with that reaction?

--- --- --- --- ---
"They're...retreating!?" asked one of the planes, just as they had begun to scramble.

"A lucky shot, to be sure..." said the lone man in the tank, wiping his brow in relief.

"Should we pursue?" asked another soldier, his plane circling around in preparation for that.

"No... They've already torn through enough resources. I'd say, we let them go... Make sure to notify command of what's happened here. Looks like the ELA are starting to fight back..."

And thus, whether down to training or blind luck, the ELA was repelled, for the moment.
--------------------
XP Rewards

Berg
+1,500 XP total

Adrian
+ "Big" Zenkai
Instant Level Up
+20% Max HP (before level up bonuses applied)
+30% Max KP (before level up bonuses applied)
+1 to any two of the following: (Strength, Endurance, Movement, Manipulation) This ignores increase rules.
In addition to the 5 SP you gain from leveling up, gain an additional 4 SP for a total of 9. This total is treated as being from the same source.
--------------------

_________________
"Find something to believe in, and find it for yourself. And when you do, pass it on to the future."



Posts

: 657


Join date

: 2014-07-11


Age

: 26


Location

: United States



Page 2 of 2 •
1, 2
Similar topics
---
Permissions in this forum:
You
cannot
reply to topics in this forum