Page 4 of 4 •
1, 2, 3, 4
Xalia picked at her ear with her pinky, "Loud as always
."
Looking over the hostages then to Ryo and Arashi, who have just realized they're both saiyans. The event peak's the woman's interest and she smirks. Catching Lusk place down ??? she became serious again.
She placed her hand along the wall. Her hand pulsated a golden colored ring that spread out through said wall. Her touch glided along as she took a step forward, then another.
The Namekian pulled his arm free from the machine's remains with an ear twitch, "Another one is coming."
"Xalia has already touched the wall!"
Xalia decorates the wall with her Art is an Explosion! (KP 71 -> 58)Peter's turn!
Gohan2535





Posts

: 278


Join date

: 2014-07-11


Age

: 22



Peter couldn't believe it. What were they, anyway… That green guy from before, and now there seemed to be another. But he seemed… alright… but still, the memory of the one he saw before…

Peter hacked up more blood, and his vision grew blurry. Before long, Peter slowly passed out, his vision going from blurry to black…

Peter loses 4 HP due to Internal Bleeding! (HP 4 -> 0) Peter goes to near-death!
Derek's turn!

Derek stood, amazed that he could put weight on his leg again. He turned around, trying to find the Big Sentry… and was amazed that it was on the ground, unmoving and sparking from damage.

"D-did the kid…" Derek looked around, trying to locate any signs of life. He looked over at Peter. He was still in rough shape. Quickly, Derek resumed looking around, "Hey, this guy's—"

Derek would have continued pleading for help, but a feeling seized him, when his gaze fell on a feminine figure not too far down the hall. One look at her, and Derek knew she could kick his ass up and down the hallways.

And that… was a turn-on.

Derek Rests, regaining 1 AP! HP is already full! (AP 0 -> 1)
Fred's turn

Fred sat up, amazed that he had been miraculously saved. He was sure that when he'd taken the blow for Norman, he was as good as dead, and yet here he was, good as new… Fred's eyes scanned the area, and soon fell on the large, imposing figure that was Lusk. A feeling of fear struck him, remembering the other guard that would pay the hostages a visit. Yet, he realized easily enough, that this was not the case.

"Hey…You," Lusk's head barely moved, "Did you… save me?"

"I suppose that's right," Lusk replied simply, his focus seemingly elsewhere. Fred looked around, and realized Peter and Norman were still down.

"Thank you for saving me, but please save the others…" Fred said, remaining on the spot.

Fred rests…which doesn't do much for him!
Norman's turn! He's still unconscious and has 0 HP!
Molly's turn!

Molly was sure she'd seen the green man before, but—no, that wasn't right. Despite his hulking frame, this green man seemed… different. Plus, he'd just healed Fred and Derek, so certainly he wasn't all bad.

Molly sighed in relief, "We're saved…"

"We're not out of the woods yet…" said Derek, and Molly and the others all realized another Big Sentry charged down the hall, once again cutting off the group's escape.

"Another one??" Ryo asked, more annoyed than anything else.

Before much else could happen, two figures suddenly rushed past Big Sentry B, and regrouped next to Lusk. Fluut and Nero landed nearby, and the conscious hostages let out another cry of surprise. However, they quickly calmed down once Fluut spoke up.

"Nero, are you sure this is the last robot?" Fluut asked.

"I am 99% sure that this is our final opponent in the building," Nero responded.

"Alright then," Fluut cracked his knuckles, "Lusk, tend to the injured. Everyone else, focus all your attacks on that big robot!"

Molly also rests! This does nothing for her!
---------------------
Round Five start!

Initiative Order
Arashi (28)
Ryo (23)
Derek (23)
Lusk (21)
Nero (19)
Xalia (18)
Fluut (18)
Peter (18)
Big Sentry B (15)
Fred (14)
Norman (6)
Molly (5)

Arashi (87 HP / 87 KP / 3 AP)
Ryo (74 HP / 46 KP / 0 AP)
Derek (21 HP / 1 AP)
Lusk (75 HP / 80 KP / 56 MP / 2 AP)
Nero (60 HP / 39 CP / 1 AP)
Xalia (90 HP / 58 KP / 4 AP)
Fluut (73 HP / 49 KP / 2 AP)
Peter (0 HP / 2 AP) [Near-Death: 0/3 S | 0/3 F]
Big Sentry B (94 HP / 99 KP / 3 AP)
Fred (16 HP / 2 AP)
Norman (0 HP / 0 AP) [Unconscious]
Molly (14 HP / 2 AP)

Big Sentry B has arrived!
Fluut and Nero have arrived!
Arashi's turn!

_________________
"Find something to believe in, and find it for yourself. And when you do, pass it on to the future."
Arashi noticed the green gaint and the pale-skinned man. From what he could surmise these two must have been the teammates Lusk was conversing with over his communicator. Arashi wondered who exactly were they as well as why the big guy gave off such an above average commanding presence while the albino gave off. . . . . nothing. Regardless their identities were of little importance at the moment. Seeing as how Arashi still had some steam he needed to blow off. As the large green man gave the order to assault the metal behemoth Arashi's arms started to glow with an intense green light.

"You got it boss man" he said while dashing towards his target. With a hearty grin Arashi struck the Android's abdomen with a brightly colored right cross! Causing the Android to bend a bit.

Arashi used a Charged Punch attack and hits dealing 16 damage!
(Arashi KP 87>84) (Big Centry B HP 94>78)

Arashi followed up with his remaining powered up arm and delivered a powerful uppercut to the Androids face. Forcing it to take a few steps back!

Arashi payed one action point in order to use another Charged Punch attack and hits thus dealing 14 damage!
(Arashi KP 84>81;AP 3>2) (Big Centry B HP 78>64)

"Man that is satisfying. Hey kid get in on this!"

Ryo's Turn!



Posts

: 139


Join date

: 2015-06-22



Ryo chuckle to himself. Here he is fighting alongside another saiyan that are not his two sisters. What are the chances of that! He didn't think something like this was possible. And also meeting some demon looking person, a green guy, and a kunoichi. Yeah, that's cool too.

"I like the way you think!" exclaim Ryo as he started to charge his ki, and rocket towards the second Big Sentry.

"Take this!" Ryo landed a charge ki kick on the droid's head pushing it back a few feet.

Ryo used Charged Kick! Dealing 15 damage on Big Sentry B. Big Sentry's HP (64->49) Ryo's KP (46->40)

"Okay, that was pretty satisfying." chuckled Ryo.

Derek's turn



Posts

: 20


Join date

: 2015-06-22



Derek refocused after a moment, and turned back to Peter. To his horror, he found that Peter wasn't even twitching anymore. Derek knelt down next to Peter's body, trying to figure out what he could do to try to stabilize him before he died, at least until whatever happened to him could be done.

After a few moments it came to him. "Of course… that CPR thing."

Derek rolls a 14 on his Intelligence check, managing to remember CPR!

Derek stretched his fingers, trying his best to keep Peter from dying. He performed chest compresses, just as he remembered. Derek remembered there was another part to the CPR thing, but he wanted to hold off on that for a bit longer in case that hot chick was watching. Didn't need her thinking he was gay now…

Derek rolls a 18 on his Intelligence check, managing to keep Peter stable (Peter Death Save Successes 0 -> 1)
Lusk's turn!

_________________
"Find something to believe in, and find it for yourself. And when you do, pass it on to the future."
Lusk's turn!

As Derek continued to watch over Peter, he felt a hand calmly come down on his shoulder. He looked up to find Lusk looking down on him, giving the fit adult quite the jump. But he'd seen how this green guy had jumped to finish of the attacking robot.

"I can give him the aid he needs." Lusk spoke up, and Derek believed him. Moving aside, Derek gulped over the unconscious ????? once again held over the big guy's shoulder. Lusk took Peter's injured hand in one of his own, and hovered the other over his crushed chest. He poured his magic carefully through his Chiyujutsu, mending the broken human.

Lusk uses the Chiyujustsu on Peter(MP -4 56 -> 52), healing him up to 14 HP! (HP 0 -> 13) (Condition: Normal)

Laying Peters hand down as he began to awake, Lusk stood up to address the others in the room. "Everyone gather behind me, and i'll lead you out!" he clearly had meant the freed hostages, who took note.

"W-What's..." Peter wondered aloud, sitting up, groggy. Derek grabbed his shoulders in amazement.

"You made it!! Holy sh--"

"What happened to me..." Peter wondered, flinching over the memory of the Big Sentry's last blow on him, feeling his healed chest.

"It was that...thing?" Derek said, pointing his thumb back. "He fixed you up."

As soon as Peter layed eyes on the Namekian again, he remembered everything up to blacking out. While the green-skinned Fluut and Lusk were an alien concept to all the other "hostages" around, Peter had seen one once before...

"H-He's just like... him ..." Peter said, trembling as he looked on to Lusk, who looked back with confusion. "They both are..." he continued, seeing Fluut across the room.

"We're just like...?" Lusk tried to put together, could he mean...

--
Nero's turn!!
ToonKing911





Posts

: 453


Join date

: 2014-07-11


Age

: 20




The droid was still reeling from Ryo's strike, struggling to regain it's footing. Nero noticed this opening and dashed forwards, drawing his arm back as he built up speed, the Sentry saw this and managed to brace itself, the hit cracked the droid across the jaw. the impact of it sending the droid back several feet.

however the droid immediately reacted, it dashed forwards and Delivered a simmilar hit to Nero, cracking him across the face and sending him backwards as well. Nero recovered and took up a fighting stance once more. Purple energy began to form around one of his hands as Nero began charging energy for another assault.


To Nero's surprise he failed to control the energy properly. and it dissipated, luckily doing so quietly.


Nero Attempts a +6 charged punch, its a hit!! BSB burns an AP and manages a critical endure, only taking 9 damage!! and counters with a hit that Nero endures, Nero takes 9 damage!! Nero burns an AP to attempt another +6 charged punch. but fails the manipulation check!!

Nero CP 39 -> 27 Nero AP 1 -> 0 Nero Hp 60 -> 51. BSB HP 49 -> 40 BSB AP 3 -> 2


Xalia's turn!!



Posts

: 74


Join date

: 2017-09-02



With her art now in place, Xalia kicked off the ground running passed Nero. She kept her blades sheathed this time.
As she reached the Big Sentry she dropped in place. She swing her leg, the other bent in place holding herself up with her hand. The big sentry was ready this time to avoid further damage! Stepping to the side with a quick leap.
Xalia makes an Aimed Shot at the Big Sentry's legs but misses!
With a twist of the body and a push off the ground Xalia was able to propel herself away, "Fluuuut
! Lend me a hand would you?"
"Alright then..." was the namekian's response. Extending his arm out, Xalia landing beside him with hers in the same
position.
Xalia burns an AP (4 -> 3) to initiate a Team Attack! Only Fluut is available to join!
A flash of purple as both fighters' ki swelled up in their palms. The ki surging until becoming stable, "Fire!" Xalia shouts. Both releasing their attacks, which seem to fuse together into one big purple ki blast. It hurdled at the Sentry, who was just now relocating Xalia's position.
"Boom!"Xalia and Fluut both make Charged Energy Attacks, passing their manipulation check(22)! (Xalia KP 58 -> 50, Fluut KP 49 -> 41.) The attack hits dealing 30 damage! (Big Sentry HP 40 -> 10)
A tuft of smoke clears, revealing the Big Sentry. Still standing, but losing an arm. Wires spilling out from where it had been, singed and sparking.
Fluut's turn, as he burns an AP to continue!
Gohan2535





Posts

: 278


Join date

: 2014-07-11


Age

: 22



Fluut slammed his foot forward, intent on finishing the fight then and there. With this, the area would be clear, and his unit would be free to do as they wished. Unfortunately, Fluut miscalculated, and his flying kick flew right past Big Sentry B. Skidding to a halt, Fluut swirled around, the big sentry moving too slowly to keep up when Fluut slammed his heel directly into its head, leaving a sizable dent in the surface. Fluut hopped back in front of it, eyeing it warily.

Yet again… I couldn't deal the final blow with enough force…

Fluut burns an AP to conduct another attack (2 -> 1), attacking with a physical attack that misses! He tries again (AP 1 -> 0) and connects, dealing only 9 damage! (HP 10 -> 1)
Peter's turn!

After all that had happened, that large robot was still standing. Peter could see it—even a slight breeze would probably have toppled the thing over, and things would have worked out fine. Peter tensed his fist. Now would be the time to let off some steam, get some payback, and his foot hit the metal tile in front of him.

Fluut's pointed ear twitched as he watched the Big Sentry amble about, and he realized what was about to happen. He heard Peter's foot, and Fluut whirled around.

"Don't! Move!" Fluut said, "This thing's about to do something!"

Peter hesitated at the sudden urgency in Fluut's voice, but as Big Sentry B raised its hand, and began to glow red hot, Peter suddenly understood completely.

Peter passes his turn, which does nothing!
Big Sentry B's turn!

Big Sentry B stepped backwards. If it had a more human face, it would probably have been split into a wicked dream, void of any sanity. It knew it had no chance of winning, but that didn't mean it couldn't take someone with it. Or rather, everyone in the room. Energy coalesced in its hand, but that didn't last long. The energy seemed to backfire violently, through the body, and Fluut realized it was time to book it.

"Everybody, move!" Fluut shouted. Nero's fist tightened, remembering all too well what this meant, and he turned away…

Big Sentry B overcharges an energy punch deliberately (-99 KP; KP 99 -> 0), and can't hold the energy. The energy is too high even though he didn't crit fail the roll, and he detonates anyway! (HP 1 -> 0)

All those close to Big Sentry B must make a Movement save of DC 18 or greater! If the group scores enough successes, the group and the hostages and ??? can escape without injury!

_________________
"Find something to believe in, and find it for yourself. And when you do, pass it on to the future."
As Nero turned away and made his way for the exit, he was tempted to go back and reason with the Big Sentry, but he understood it wouldn't be possible.And he had important things to to do.
In between the battle and the exit was Lusk and the escaped hostages (minus Ryo). Nero reached them before anyone else. They were all just standing there, in these brief seconds of confusion. Wrapping an arm around Fred he helped him up.
"It's going to explode. We have to move." Nero communicated quickly, heading off with Fred. Lusk quickly understood Fluut and Nero's words, picking up the unconscious Norman under one arm, ????? still over one shoulder. As everyone began to move, Xalia was mostly idle, eying the wall behind Big Sentry. But she soon headed out as well.
The two of Saiyan descent however were getting into stance directly in front of the glowing-red Big Sentry. Steam was rising up off the droid's body, both the teen and child pulling forth ki to strengthen their next hits.
"Let's finish it!" Arsahi called out, green ki gathered around his fist.
"I was thinking the same thing!" Ryo agreed, red ki emanating from his foot.
As both jumped off the attack, Fluut's arms stretched out from across the room, and caught both by their leg. Each gave a sudden jolt of surprise, before being pulled in as the Namekian retracted his arms. Fluut was already running for the exit even as they caught up with him. "You'll just set it off."
The rest of the escaped hostages managed to run out on foot, along with each member of RISING Unit and Arashi. The Big Sentry's higher energy reserve had bought them all nearly a minute total before it reached it's limit.
But then...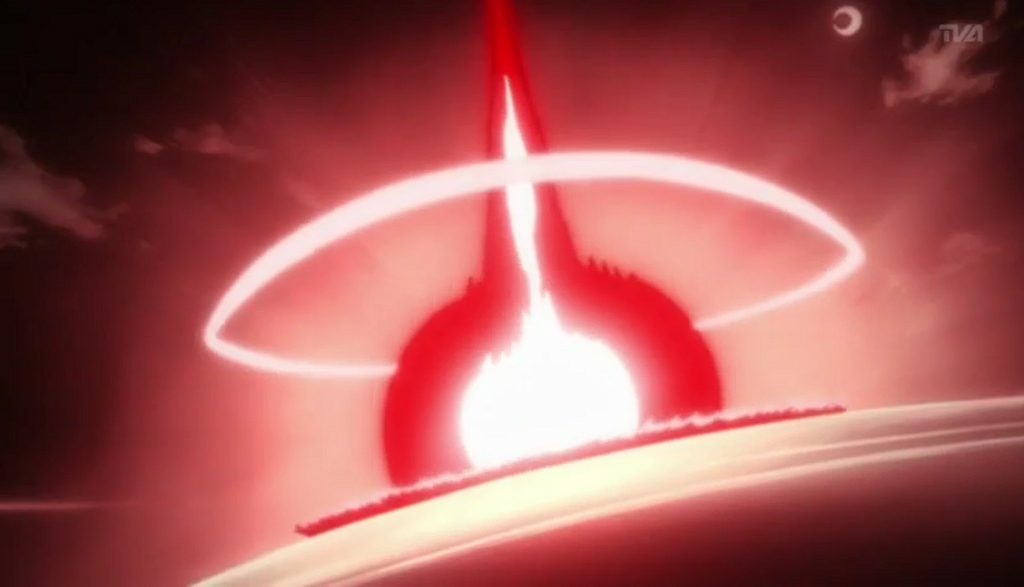 The once minor threat went up in a fiery cloud of red power, which was quick to swallow up the room. The rising blast pierced through the above floor and began to collapse the above rooms. When the explosion reached the wall Xalia had charged, it went up in reaction, adding to the mayhem. The entire west side of the building either broke apart from the expanding blast or collapsed as it came to an end, shaking the rest of the structure and the surrounding heavily.  
---
As they finished rushing out of the buildings east side, (where Lusk, Arashi, and Xalia had entered from) everyone arrived carefully as the ground quaked beneath them. The former hostages (minus Ryo) all lost their footing, Derek falling flat on his face, before scrambling out of the collapsing building as well.
Those who had been trapped within the building for weeks held back tears, as RISING Unit took to helping them.
They'd all made it...
ToonKing911





Posts

: 453


Join date

: 2014-07-11


Age

: 20



After everything that had happened, the next minutes were a blur to those that had survivors. Arashi was disappointed—his friends weren't even in the building. He recognized none of the hostages. That was when Derek dropped a bombshell. The facility that now lay half-destroyed was only one of many prisoner holding facilities around the nation, and people were regularly shipped around.

Ryo snapped to attention at this, mentioning that his little sister must have gotten shipped off somewhere else. He and Arashi nearly ducked out right then, but Fluut asked them to wait just a little longer. He quickly set to work asking the hostages if they knew anything else that could help them, and Lusk made mention that Peter had a brief moment of fear when seeing them.

Peter dropped another bombshell on the spot. He had seen a Namekian on the base, one much like Fluut and Lusk. However, he was slimmer in build, and his coloration, now that he thought of it, seemed…ashen, gray, compared to the greener Fluut and Lusk. In addition, the Namek only wore a long, tattered, faded blue cape on his upper body.

Fred was the next to speak up, saying that he knew a computer was upstairs, but added that with that explosion there was probably no chance of recovering anything on it. Molly came forward next, saying she knew of one of the locations where the sentries were being manufactured. With this, Fluut advised that they come with them for the time being so that their bosses could gain information from them as well.

When Arashi inquired further, Fluut, in no uncertain terms, said they were a fledgling group meant to put a stop to the plans of the E.L.A. (Educated Leaders' Army)—the group who used legal loopholes to start this whole mess, lead by tyrants throughout the system, united under the banner of 'education'. Arashi and Ryo, whether seeking a challenge as per their blood, or wanting to save those close to them that the E.L.A. did wrong, accepted the offer to join. The hostages, incredibly confused at all this, simply rolled with things for the time being. They had been rescued, and they weren't going to complain now.

With all that done, the RISING Unit, now plus two members in the form of Arashi and Ryo, made short work of the rest of the building, to ensure it would remain demolished. Shortly thereafter, the RISING Unit, together with the rescued hostages and the captive ex-warden, quickly made their way out of the hot zone.
----------------------------
10 Minutes Later…

The remains of the base lay smoldering and smoking from the effort, the remains of the droids still sparking and lifeless. In a flash, something landed down in front of it. The shape looked human at first glance, but a closer inspection would reveal that this was indeed not the case. Other than a pair of glass eyes, the human had no face, just a pale, smooth visage of a human. The "human" was dressed in all white, and surveyed the area. As they thought, whoever was behind this was long gone.

No. They knew exactly who was behind this, but they were in for an awful surprise. Seemingly from nowhere, a distorted female voice rang out.

"The Spartan has been captured. Will return to base for further plans…"

END CHAPTER
----------------------------
XP Bonuses!

These bonuses come from not only battle, but RP and story-related bonuses.

Fluut (+775 XP)

Nero (+830 XP)

Xalia (+1,290 XP)

Arashi (+1,140 XP)

Lusk (+1,085 XP)

Ryo (+1,110 XP)

Shinjo (+750 XP)

Add your character's bonus to the value in Cell F3 and you'll have your new total EXP. This can lead to a couple of you leveling up or getting really close at least.

_________________
"Find something to believe in, and find it for yourself. And when you do, pass it on to the future."
Page 4 of 4 •
1, 2, 3, 4
---
Permissions in this forum:
You
cannot
reply to topics in this forum