After making a trip to the store, and coming out with several new items, Arashi and Nero, full of determination, marched right towards where they were told the base commander's office, determined to get permission to go out and find Verbatim. Within a minute or so, they reached the room, finding the door slightly ajar. It was Arashi who failed to knock and pushed the door open, walking in, his request already loaded despite Nero's protests to wait a second.

"Excuse me, miss, but we need to--"

"Ah!?" This came from a woman, like what Arashi was expecting to see. Minus all the strength that would be expected of such a figure as the base commander. The woman looked very much like your typical secretary; blond hair, blue eyes, glasses, blazer, undershirt, modest skirt, heels. A badge on one side of the blazer read "Eve". She also bore a surprised look on her face at the very sudden intrusion.

"Ah!?" Arashi said, though it was more of a question than a surprised shout.

Nero said nothing, merely looking at Arashi with a completely deadpan look. The emotional state that leads to one saying "I told you so" hadn't quite been expressed in Nero's presence for him to copy.

"...You two startled me... RISING Unit members, right?" she said, breathing out, "Well, what are you two here for?"

"We need to talk to the base commander," Arashi said, "Are you her?"

"We want to hurry and save Verbatim," Nero said.

"Ahhh..." said the secretary, "Well, I'm certainly not the base commander. I'm his assistant, Eve. As for where that Tabasco ran off to... Can't say. Lots of paperwork came in, and I swear he always does this..."

"The shopkeepers mentioned he was probably hiding..." thought Nero aloud, "I suppose you're looking for him too, then?"

"Yes," answered Eve, "But he's so good at this... I can't seem to find him."

"Don't worry, miss! We'll find him!" Arashi said, "How many places are there to hide on this base, anyway?"
-
Just outside the room, one door down in an open room, a single box suddenly jittered.

'Her'...?

_________________
"Find something to believe in, and find it for yourself. And when you do, pass it on to the future."



Posts

: 632


Join date

: 2014-07-11


Age

: 26


Location

: United States



Nero and Arashi exit the room, taking a look around the hall, there were several other doors, the commander could really be in any one of them.
"he has to be around here somewhere, right?" Nero said. "Definitely! A guy who runs an entire base can't hide for too long. Especially from a pair like us. Let's split up and sweep the place! I'll take the right side of the building you take the left! Deal?" Arashi responded.  "Deal!"
the two then split up, thoroghly searching the area top to bottom, after awhile, it becomes obvious to both that neither of them can find him, and they reconvene.
"This . . . . is going to be harder than I thought" Arashi says. Nero crosses his arms,  "No kidding" he says.
"Well I have an idea but I don't think it'll work" Arashi says. "Promise not to call me crazy all right?".   "....well...alright" the Android replies.
"My parents to told me that there are Fighters out there who know a way to Focus their instincts and track down other living things. I've never tried it before but I think it's worth a shot. And if this guy is a commander that means he must be special in some way right? Maybe he'll stand out?"
suddenly, both Arashi and Nero hear something shifting, turning behind them, they see one of the doors from before propped open by...a box?
Arashi immediately recalls something, "no no no...it couldn't be...". despite his efforts, he wasn't detecting anything out of the ordinary, despite the strange appearance of a cardboard box.
"Nero, you're seeing this right?" He said.   "er...seeing what?" replied Nero as he walked forwards.  the box was odd...but..maybe someone was moving stuff?.
Nero approached the box. taking a second to lean into the room it had come out of...noone was inside, but the room was lined with boxes.
catching up, Arashi says "Maybe i was just jumping the gun. You sure you searched every room on your side?" Nero looks down to the box.  "yeah...and im pretty sure boxes don't move on their own."
"Wait . . .YOU'RE RIGHT!" Arashi suddenly realizes. "ill try one more time...maybe if i just focus on this room?" Arashi then closes his eyes...concentrating as much as he can. but he gets nothing. maybe he isin't doing it right?
"Nope, i got nothing. Want to start stripping this room? Starting with this particularly suspicious box right here?"   "Go ahead" Nero replies.
Arashi lifts the box, clearing the threshold, and casts it aside.
There is nothing underneath.
There is the slightest tapping noise behind them, but neither think to inspect it. Suddenly, Arashi lets out a cry of pain and surprise. Nero turns, and he sees a confusing sight for a split second-A one-armed man bearing battle scars and wearing an eyepatch has suddenly materialized from seemingly nowhere, and has his finger in Arashi's--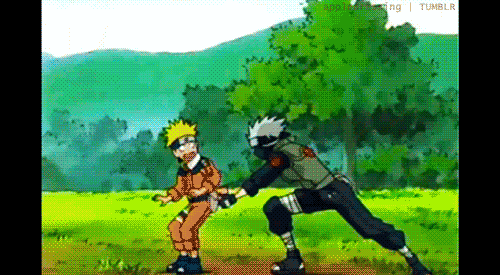 Arashi is launched forward, impacting one of the walls of boxes as they  collapse around him. Nero looks back and forth, as ??? rights his stance and finally speaks:
"That's what you kids do these days, right...?" he says.
Arashi is attacked by ??? taking 13 damage!! 13 (HP 152 -> 139)



Posts

: 92


Join date

: 2017-09-02



Arashi didn't mind a good joke but to him, it felt a lot more like teasing. After hearing the commander express his confusion as to why his little prank wasn't well received the boy was that his limit. "Now hold it! Slapstick is an art! You can't just do something wacky and expect to get some laughs! There has to be a setup and clever punchline!"


To which Tabasco replied with, "Everyone's a critic...". The one-armed soldier turned around and headed for the door.

"Nice talk" would have been the last thing he said to them if Arashi wasn't so darn persistent. The Saiyan cut off the commanders path to the door immediately, but during this Arashi had noticed something unsettling about his Superior. The man was missing an arm and as he looked at it small chill went down his spine before finally restoring eye contact. Nero following closely behind, politely asking Tabasco to wait.

The veteran glanced at Arashi with one eye before turning to look at Nero.

"What, you looking for an allowance?" Arashi rolled his eyes at the condescending question. "Not exactly...Sir. We're looking to get back out there."

Soon Nero joined in, eager to state his case, even if his face didn't show much of the same passion. "RISING has been left to recover for about a month now. we think we're ready to fight again, and we're hoping you could help us get back out there." Though Arashi was loving the initiative he wished Nero had chosen his words just a little more carefully. They were trying to inspire as much confidence as possible, so saying that they "think" they're ready instead of saying "they know" made Arashi sweat a little.

"Hm..."The commander reached into his pocket and pulled out a cigar. Nero was about to express more of his concerns when Tabasco tried to end the conversation. "I've still deemed RISING unfit for service. You'll be updated when that changes." Tabasco was just about to step past Arashi and leave the room but after a quick pat down he realized that his lighter was no longer on his person. "Ah... Either of you got a light?" Arashi stepped up almost immediately, raising one thumb up and positioning just below the cigar. It took a bit of concentration but thanks to past exercises Arashi managed to properly light the cigar with a tiny burst of Ki. "Here!"
(Arashi makes his Manipulation check!)

"Sir, how long are you going to wait? we need to get ahead of the E.L.A while we still can!" Nero asked as he crossed both arms. "What about the Chaos Emeralds? every single one of them is like an infinite energy generator, and they already have 2! Wouldn't it be best to try and get our hands on the others as soon as possible?" On paper this was a logical argument, the more emeralds the enemy had the more their chances of winning this war went down. However even with that as justification all their superior wasn't budging. "What a brilliant idea. Why hadn't we thought of that... Search for the magic gemstones and use those to solve everything. Don't overblow the things. Most can't begin to use their real power and yeah kid, we are searching. As for your wait. When I send your team out depends on when I decide you've fully recovered from the fall of RISING HQ, and the abduction of Professor Amari Verbatim..."

However, Nero refused to back down, as he easily had more on the line personally than most. While Arashi simply stood there baffled by just how dangerous these gems were. "You're forgetting, I and my "brother" literally run on their energy! That and...we have this." After removing his shirt and coat steam came off the android's body as the "chest" opened, splitting right down the middle and revealing a section inside.Tabasco and Arashi saw six slots visible around a core in the middle.Tabasco looked closely at the exposed Nero and his slots, clearly made to house the six Chaos Emeralds.

"Uh huh?" The look of his eye had a history to it. On the outside he maintained his nonchalant attitude, continuing to smoke as if it were just another Tuesday afternoon chat. "And when I last had one of those emeralds in hand, I still had my real arm. Don't get greedy just because you've got some fancy looking slots."

"We're searching for them, what little we can. But they're no easy way out for this war... Nothing will be."

As the two paused at this, Tabasco tries to leave yet again. Only to once again be pestered by their persistence. "Well, sir I'm afraid you're not avoiding this. This is a problem we need to solve now! Before it gets worse!" The boy knew he was no genius but it was easy to see the dangers of letting their opposition run wild while RISNG sat on their hands.

Especially not after what happened during the attack on their base. "While I see your point, it's exactly why we can't just sit here. give us the chance to prove we're ready," said Nero.


Tabasco stopped walking and inhaled from his cigar before letting ash drop to the floor. While Nero continued to speak out! "There is no easy way out, you're completely right. but us sitting here doing nothing won't help anything, the E.L.A and it's troops certainly won't stop and wait until we're ready for another round."

"We know that the base was a serious loss and I know Professor Amari is only gone because I couldn't do the one fucking thing I was good at! But at least give us a chance to fix it! Give us a chance to hit them back 10 times as-"

Tabasco suddenly appeared in front the Saiyan mid-sentence and lifted his hand to cover Arashi's mouth. He looked directly at Nero with a stern gaze until finally, he asked the big question.

"If this isn't about having something to prove, then what's it about. Don't try to tell me its to just stop the E.L.A. again either... What's really so important out there? Say it!"

"I...."At the time Nero wasn't sure what to say. He looked down, closing his eyes as a pained expression formed onto his face, but soon after he looked back on the past few months he realized what had truly bothered him. Deep down Nero knew that there was far more to it than it just the strategic course of action.

"I....i need to find Miss Amari! I can't stand just sitting here!" He says letting out a choking gasp in place of the tears he could not shed. "She's been gone a whole month now! I've done my best to improve without her but... I don't know what else to do. She's been gone for a whole month now.

Hearing about the suffering his friend endured nearly brought Arashi to tears, instead he walked over to comfort him with a few pats on Nero's back. "It's alright man, I know where you're coming from. We'll get her back. Promise."

Whilst the boys were having their moment Tabasco was about to indulge in another cigarette when suddenly a feminine voice echoed down the halls. "Commander?? Are you there?"

It was Tabasco's secretary, thanks to this odd pair his cover had been blown. "Tch..." The commander tossed his cigar to the side then headed back into the room. He got on top of a table and planning to use the air vent as an escape route.

Calling to the boys "Hey! You two hurry up!!" In one motion he wrenched the vent off then headed inside of it, making sure not to leave Arashi and Nero too far behind. Arashi was starting to question whether or not this was the real commander, but Nero didn't think twice. Going with the flow Nero shrugged then chased after Tabasco through the vent.

"Man this guy avoids his job more than I avoid my chores!" Not wanting to be left out Arashi quickly followed after them, ready to tackle whatever they misadventure they had just wandered into.



Posts

: 143


Join date

: 2015-06-22



The three traveled rather silently through the vents for a few moments, a new experience for the two boys. Tabasco meanwhile clearly had movements with efficiency.

They soon arrived at some destination, as Tabasco pried off another airvent, and fell through. Arashi and Nero exchanged glances for a moment before dropping in aswell.

However, they weren't falling through an office room like they'd expected, but into one of the bases huge training rooms. The Saiyan and bare chested Android were surprised, but the base commander was already moving, producing three objects from his military jacket before removing the clothing with one swift movement.

Letting go of the jacket, it smacked into Nero for him to cover up, Tabasco wearing a novelty tank-top with "Naked" written across the front. The two RISING members also saw the other two objects in hand, matching golden I.D. cards. Both were blank of an image or any information.

In a blur they were pinned to his shirt.

"You kids want to prove yourselves? Let's see it... If you can grab these I.D. cards I've held off on handing out...I'll consider you in good enough shape..."

The falling boys were surprised, their earlier pleas apparently creating these results, and they filled with determination. The jacket in Nero's hand almost matched what Arashi now wore.

Nero's calm face glances at the third object Tabasco suddenly lets go of, as Arashi eyes it in horror. It was a grenade. Without a moments notice it explodes into a bright light, the superior officer covering his good eye with his hand.

Arashi and Nero's eyes took the full blast, blinding them temporarily. Tabasco calls out before disappearing from their senses completely...

"Don't forget your landing!"
ToonKing911





Posts

: 494


Join date

: 2014-07-11


Age

: 21



Nero moves closer to Arashi and grabs hold of him, with his other arm, he tries to blast out and cut their momentum as they fall..and while they slow down some, they still crash into the ground uncomfortably. Nero rises to his feet, rubbing the back of his head as Arashi's vision and hearing recover.

the two look around, the entire training room appears to still be set up from a previous session, large metal blocks form cover all around, not only that, but the floors and roof seem to be made of them in the first place.

"looks like he's hiding for now" Nero says as Arashi rises to his feet, rubbing his head as the effects of the flashbang wear off.

"That's twice in a row he's made me look bad! I'm not 100% sure what kind of game he's playing but I'm going to win and then some! Where is he?!"

Nero looks around, the commander is certainly well hidden. and making no sound to boot.
"i guess our first task is to find him...." Nero says,  before bringing a hand up to his chin in thought. "I...might have something for that". "You do?" Arashi asked curiously. "Did you figure out how to make your radar track people now?!"

Nero shakes his head. "no, that's not a matter of skill, i couldn't do that without an upgrade" "With Amari gone...upgrading my capabilities has become next to impossible..atleast for now. so for the past month ive been trying to make better use of what i have...so i came up with a new technique. One ive been meaning to test in circumstances like this"

Arashi thinks back to the gigantic wave of energy that was Nero's previous signature...and decides to take a few steps back before shooting two thumbs in approval. "Go for it!!" he says, looking both enthused and nervous at the same time.

Nero nods, and closes his eyes, he extends an arm outwards in either direction. slowly, both hands begin glowing. as purple energy flows around them. the energy then flows back around Nero's own body. which suddenly flares up in a bright light the fills the room.

Arashi does his best to shield himself from the light, which keeps up for a little bit before it finally dies down. When Arashi uncovers his eyes, he sees two identical copies of Nero standing at either side of the original. both opening their eyes slowly.
Nero seems preoccupied for the moment, he raises one hand, as do both of the clones. he puts it down, as do they. he runs a number of similar tests. before turning back to Arashi, seemingly satisfied.

" . . . . . . . YOU CAN MAKE CLONES NOW?!" Arashi yells. "That's so cool! How do they work?!". Nero does his best to smile at Arashi's enthusiasm.  "they're basically made wholly by my energy." he then lightly hit's one of them with the back of his hand, as he does so, it seems to discolor. flickering into a purple glow before it returns to normal.
"think of them kinda like a hard light copy, ...that i can still see and hear through."


"Anyway...time to get to business" Nero says. as him and his two copies walk past Arashi.  "Im gonna search the room with my clones.,think you can get rid of some of his hiding places?"

In response to Nero's question Arashi's hands light up with light green energy. He casually walks past the clones along with Nero just before raising up both hands. "With pleasure buddy!"
At that moment a bright bombardment of Ki erupted from the Saiyans hands! The intense explosions begin to rip apart the room, detonating on contact! Arashi makes sure to leave no stone upturned or in one piece during his relentless assault. "Come on out SIR! Can't hide forever!" he yells.

with that, as the explosions rock the room, Nero and his clones dart in opposite directions, checking every knook and cranny that didn't have an oncoming blast.
it takes a few minutes, but eventually one of Nero's clones hears something over the din of the blasts rocking the room, and turns to see Tobasco out of the corner of his eye. the commander rushing to find a new set of cover in the hail of energy fire. however, as he turns to run to the next area. he immediately locks eyes with the Nero clone
"going somewhere?" Nero says through the copy

"He isn't going anywhere!" Arashi says before rushing in, but in his head he'd begin to wonder. Perhaps there was a chance that the commander was faster, so the boy came up with a simple but potentially effective plan. For the time he would act present himself as the "real threat" while Nero's clones closed in o their target. The Saiyan hoped to use his offense as a way to give Nero the opening he needed for a decisive win!

As he charges the commander Arashi continuously grabbs large pieces of the wrecked metal cubes that now laid on the ground after his rampage. Throwing each and everyone of them at his Superior one after the other while closing in. Until finally attempting to land a few punches and take the ID badges by force!

The commander, however, wasn't wholly phased by the oncoming onslaught, and despite being short one arm, was managing to parry the attacks Arashi was dealing out, his face composed despite the situation.

Nero's clones move in swiftly a Arashi is brushed aside. both of them swinging out for broad sweeping attacks, however, the commander simply jumps over the first one, and catches the second clone's punch, before grabbing and tossing it over his shoulder, roughly slamming the clone into the ground.  as this happens Nero's main body attempts to move behind him. but as he approaches the commander whirls around, his leg swinging into a roundhouse. Nero just barely has time to lean back. the man's foot passing mere inches away from the Androids chin.

Round 1 over!!



Posts

: 92


Join date

: 2017-09-02



"What the heck?! This guy only has ONE freaking arm but he's still managing to dance around us!" At the time it just didn't make sense to him. Why was such a man not among the ranks of Raising? It was obvious he is no stranger to rigorous combat yet he remained here. As Arashi stood there trying to look for an opening he felt a somewhat nostalgic sensation, but soon the pieces came together. "He must be just like Kigo and that move thief! Which means I can't mess around anymore!"

Arashi began to once again close in on the commander, although this time was different. The young man's rhythm had changed, his footwork slowly growing in complexity, and the focus in his eyes ever sharper! All the while the Saiyan's emphasis on speed increased dramatically! However the veteran remained unfazed, in fact only seconds after Arashi got within striking distance he lashed out with a barrage of punches! At first it looks like the Saiyan would be pulverized by the onslaught but despite how clean they were not one connected.  Arashi simply continued to bob and weave his way through Tabasco's offense. Forcing his superior to fall back while still firing away. In spite of this Arashi persisted, only allowing Tabasco to strike his after images. Even so, he couldn't keep this up forever!"God damn! Every time he throws a punch it feels like a boulder just flew past me! WOAH!!!"

Out of nowhere, Tabasco manage to graze Arashi's temple! Then the corner of his eye socket, and then his chin! With every attempt, Tabasco was slowly adapting and Arashi wasn't having it! Refusing to lose any ground Arashi fought back with his own blitzkrieg of punches! The two warriors were immediately locked in a stalemate! Neither fighter managing to connect more than glancing blows on the other! "Hurry up and make your move Nero! Let's take em down like all the others! Just like all the others!"

Nero stared at Arashi for a second, wide-eyed "(amazing...)" he thought before nodding at his friend ."Right!" he said, nodding.. hid body then blurs as he moves away, the same happening with his clones. they then reappear in a triangle position around the dueling fighters, each extends their arms out, one after the other. purple energy beginning to form small blasts in front of them."Let's see how well he holds up under continuous fire..."


The three Nero's open fire all at once, blasts beginning to rush towards the commander at high velocity as Arashi leaps back. Tobasco just barely recognizes the danger in time, moving dodge each blast as it comes to him, however, under continuous fire he began to slow down! As he turned to face another oncoming blast, one of them grazes past his midsection and singing his clothing. Effectively throwing his balance off just enough that the final blast would hit its mark. Resisting to the very end he swings his arm up just in time to block the blast! The resulting explosion echoed throughout the room as it sent him flying backward!

Tabasco's even when faced with an energy attack from Nero the commander stood his ground. His feet scraping up the ground as the force from the blast made each foot skin across the floor. However out of seemingly nowhere Arashi was racing toward him like a missile. The Saiyan threw the decisive hook as he thought "GOT YOU!!!" With his only arm still reeling from the pain of Nero's tactical strike and Arashi's surprise attack Tabasco manage what only manage to sway his upper body back just in time to avoid a monster blow! "All according to plan!" Arashi thought as he grinned with satisfaction. In the Commander's attempt to secure his own safety he neglected to factor in the ID badges, which were swiftly smacked out of his possession. Only to be grabbed by one of Nero's agile clones!

Nero's clone zoomed over to its master with incredible speed, passing Nero's main body then chucking Nero's I.D to him. It skidded across the ground, slowing itself down as it turned to Arashi's direction. Taking off again and kicking up a large cloud of dust as it ran over to the Saiyan. Stopping next to Arashi and extending a hand which held Arashi's I.D. Arashi casually grabbed the ID badges and high fived the clone."I think this means we win round one!"



Posts

: 143


Join date

: 2015-06-22



Tabasco eyed the two RISING members, at a loss. Now, he had challenged them to this test, and had intended mostly on checking their resolve. Even knowing they could utilize forces he clearly couldn't, he hadn't expected them to overtake him. And yet, here he stood, in a training room, barely two minutes into the pop test he had commenced, with two… well, five, but four of them were the same guy, rookies in front of him having swiped their ID cards.

"…" Tabasco slowly lowered his stance, "I underestimated you. I didn't think you'd be able to recover the ID cards so soon."

"That's on you," Arashi said, "As long as we can see who we're fighting, anything's possible!"

"And," Nero's voice, unlike Arashi's, sounded more composed despite the ferocity of the words escaping from his mouth.

"We're going to keep fighting," The remaining three Neros began to speak in turn as they were dismissed, moving towards Nero as they did so.

"Until we have saved…"

"Miss Verbatim."

Tabasco looked on to the two, certain words from his youth slowly bubbling to the surface.

"The new generation should pass the old…" I didn't think it'd happen before I went totally gray. These two…

Tabasco merely reached into his pocket, drawing another cigar out and lighting it. After a long drag, he finally spoke.

"Well, you've certainly passed this test with flying colors. While we have no direct leads on Verbatim's whereabouts, we will have our chances to find out soon enough. I should hope you're ready for then…"
---------------
OOC: Just going for a quick wrap-up here. Let's move on before we lose more players.

Nero and Arashi gain 13 Training Points each. Why 13? Because Halloween's coming up and the base gain was 10.

_________________
"Find something to believe in, and find it for yourself. And when you do, pass it on to the future."



Posts

: 632


Join date

: 2014-07-11


Age

: 26


Location

: United States



Similar topics
---
Permissions in this forum:
You
cannot
reply to topics in this forum