The Centers, the ELA's smaller bases of operations. They house their own soldiers, their scientists, and the superhumans they have either recruited to their cause or happened to negotiate with, as the case was. Though the recent failure to destroy the hangar over in the western U.S. didn't go to plan, it wasn't a total defeat. The army's resources were still going to patching the damage Adrian and Berg had managed to inflict. High up in a mountain region somewhere north of Arizona, Theta Center stands as the current primary base of operations of some of the ELA's superhumans, those entrusted to do similar jobs to the RISING Unit. Their story picks up with the relatively recent return of an injured Adrian and hoverchair-less Berg. Some time had passed since their mission, however...
-----------
Item Shop

Ration - 70
Repair Nanopaste - 80
Water - 1
Sports Drink - 55
Electrolyte Pack - 95
First-Aid Kit - 140
Last edited by SSJRandomMaster on Tue Sep 18, 2018 4:43 am; edited 1 time in total

_________________
"Find something to believe in, and find it for yourself. And when you do, pass it on to the future."



Posts

: 657


Join date

: 2014-07-11


Age

: 26


Location

: United States



Berg had to walk through the center halls now, cut off from hoverchair freebies by his father. The short alien paced down the hall, sometimes asking directions from a nearby worker or droid. Most Earthlings clenched up at the the conversation, though they were familiar with the like being on base.

Eventually he arrived at his destination, proud of himself for finding the way.

Theta Center - Hospital Area

Walking through the halls of the hospital area were numerous Medical Droids, simple droids made to assist doctors with tools and cleaning, only performing the most minor of direct tasks on patients. The walls to the hall were mostly clear glass showing into the patient room on the other side of mechanical sliding doors.

Most the rooms were empty, though some had been filled with military soldiers who had been hurt fighting against the E.L.A. and were captured, now being treated by them and preparing them for service within the center.

In some rooms here were some E.L.A. Grunts transfered to Theta Center for treatment after injuries flipping their jeep in Oregon against Team Nero...

Eventually Berg arrived at the room he had walked all this way for. Through the glass he could see the patient had woken up, now sitting up and facing away from the glass and Berg currently. His bare torso was bandaged up, but now healed up.

His gi was folded over on a nearby chair for him.

Adrian seemed to glance at his own hand for a moment, before looking along his body, as if something new was there. Indeed, a new power coursed through him...
ToonKing911





Posts

: 537


Join date

: 2014-07-11


Age

: 21



Adrian clenched his fist, tensing his arm as he moved it a bit…this feeling...this newfound strength, there was something just so familiar about it….

"(what, exactly happened?") he found himself wondering. He saw the tank turn to aim a shot at Berg...then…

And then…

"Why...can't i…"


"̶(̸W̵h̶Y̸ ̷C̶A̶n̴T̸ ̵I̴?̸!̷)̵"̶

______________________________

*In another time...another place….*

A young Adrian sat on the stairs, leading up to a seemingly Japanese-styled building. Beside him sat another boy, seemingly a bit older, dressed in a similar gi to Adrian's own.

The sun was setting, and a slight breeze flowed through the air, causing leaves to slowly fall from the nearby trees.

"Man, you were amazing in there!!" Adrian said to the other boy, bouncing up and down in excitement. "I've never seen anyone take on their whole class like that!!."

The older one merely rubbed the back of his head and sighed "eh, it was nothing.."

Adrian seemed confused at this, coking his head to the side. "Nothing? But youre a natural!! At this rate, dad will have to advance you!! We'll be in the same class!!"

The older boy sighed again. "Look, Adrian, this isn't exactly what i consider "fun". I couldn't care less about being good at it…"

This only seemed to deepen Adrian's confusion. 'But..you're so.." the young child froze for awhile, before speaking up.

"But...if this isn't fun for you..what is?"

The older boy smiled at this. Reaching into a bag he'd had at his side. Pulling out a small red ball.

"̵T̴h̵i̵n̵k̴ ̷y̶o̶u̶'̶d̵ ̵b̶e̶ ̴u̴p̸ ̸f̷o̵r̷ ̴a̷ ̵l̷i̴t̶t̶l̵e̶ ̴g̸a̶m̶e̵?̴"̵

_____________________________

Suddenly, Adrian's mind snapped back to attention as he felt a tap on his shoulder...




Posts

: 100


Join date

: 2017-09-02



As Adrian looked back from the tap, he was greeted by a medical droid. It held up a cup with a spare hand, empty. "Urinate. Please." It's robotic voice said. Adrian gave an annoyed look, and the caught sight of Berg giggling over the droid's shoulder...
The teen promptly shoved past the droid, "You can skip the tests, I already know im fine." he said. He was clearly familiar with hospital stays. He stepped up to Berg, yet the droid followed after. "Urinate immediately. Plea--"
Before it could finish its pre-programmed please, the short Berg gave its head a whack with his tail.
"You got my laughs...so get lost..."
The medical droid soon did. Berg walked past Adrian, "They said you wouldn't be awake for another few days..." he said, before hopping up onto the bed which Adrian no longer occupied. "Why didn't you just enjoy the extra time off?" He let himself get comfortable. "Keep napping..."
Adrian was now at the chair which held his gi, which he took in his hands. He eyed the damage to it from the mission...he had cept it intact, only some of what remained of the sleeves singed further.  "Faster I wake up, faster I can get back in the field, I guess..." he replied simply.
"By the way..." he continues. "What...Exactly happened?"
Berg paused at the question, arms propped behind his head. "You were hit by that tank things attack..."
"You...got hit, so I flew us out of there..."
--- --- ---
"Why did you do something like that?" Berg said, emotions twisting across his face...
--- --- ---
Berg finished softly, "How clumsy of you..."
Adrian looked back at the alien, recollecting the moments of the tank taking aim at Berg.
"I guess I jumped in front of it then?"
Berg closed his eyes seriously, a sudden odd change in mood for the boy. He sat up on the bed, before hanging his feet off the edge.
"I know whats been on your mind during this time..."
Adrian looked towards the bed, wondering if he meant...
Berg sat up, glancing back at the brunette, "..."
"That's right... I have that super cool transformation...
--- --- ---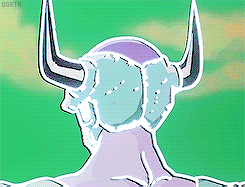 --- --- ---
"Oh, right!!" Adrian's face, surprisingly, lit up. It hadn't been on his mind whatsoever, but now that time was clear in his memory. "Holy hell man, that was awesome!"
Berg crossed his arms in satisfaction, nodding with a grin.
"Going back into that one is straining so I don't like it...but it's as amazing as it looked." he continued, before giving a sly smile towards Adrian. "I bet you wish you Earthlings had your own special transformations..."
Adrian considered that forms new size, which must have doubled Berg's height...if he had to guess, it would boost his physical faculties mainly. "I'll admit, it's certainly impressive. But how long can you keep it up?"
Berg fell back onto the soft hospital bed, thinking. "Now that I'm grown I could stay in
Brute Form
as long as I wanted...but it'd be tiresome, and it gets really easy to break stuff... "
---
The father and son's race have a number of forms which seal away their true strength. When one begins a transformation, they're really unsealing more of their power, heading closer to their original true form. The forms are naturally sealed upon birth due to the strain placed on the body, and they grow into being able to handle each form. It also can be hard to regulate ones strength in a form they are not used to.
---
Adrian nodded at the information, noting it for the future...
Berg gave a sigh of relief...
"I was sure he was going to ask for another silly fight after seeing it..."
ToonKing911





Posts

: 537


Join date

: 2014-07-11


Age

: 21



Similar topics
---
Permissions in this forum:
You
cannot
reply to topics in this forum